In 2014 Classic Touch Up started offering a new service of WOCA Oil Finished Hardwood Floors. After helping a hardwood flooring business for a few years, the owner sold out his equipment to me and left the state. I really liked the oil-finished floors we did and so offered some local contractors to keep on doing the oil finished floors.
If you are looking for a very nice "hand-rubbed look" this is the floor. It is a "go green" floor finish with the oils that make up the finish being a very environmentally safe product. The oil soaks into the floor instead of laying on top like your polyurethane floor finishes. If you want your floor to have that "new look", you can always put a little oil on the floor and rebuff and it will look like the day you put it in. No need to sand down and refinish like polyurethane finishes. I've heard testimonials from pet owners, saying "This floor after having pets on it for two years, is not scratched up like the polyurethane floor finishes I see. It's like there is no film on top to allow those white scratch marks from pets claws". The oil has a great selection of colors and can be custom mixed "for your custom colored floor". The initial application process of the oil leaves you with a very smooth feeling floor.
Stop by to see some samples.
White Oak Hardwood Floors
Wood: 3″ & 4″ x 3/4″ Solid White Oak
Finish: WOCA – Custom Color Oil Mix
Red Oak Hardwood Floors
Wood: 2″ x 3/4″ Solid Red Oak
Finish: WOCA –  Custom Color Oil Mix
Sanded down an old floor and some new floor that was installed. Oil finished the entire floor.
Wood: 4″ & 5″ x 3/4″ Solid Straight Sawn Red Oak
Finish: 25% Rhode Island Brown & 75% Brazilian Brown WOCA Custom Color Oil Mix

Hickory Hardwood Floors
Wood: 3″ x 3/4″ Solid Hickory
Finish: WOCA – Natural Oil
Installed, sanded, and oil finished with natural oil. You will notice I had to custom fit wood to match radius on the kitchen tile.
Wood: 5″ x 3/4″ Solid Hickory
Finish: WOCA – Extra Gray Oil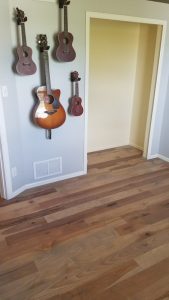 Douglas Fir Floors
Wood: Solid Circular Sawn Douglas Fir
Finish: WOCA – Custom color oil mix

Countertops
Wood:
Finish:
Unclassified
Wood:
Finish:
Wood:
Finish:
Wood:
Finish:
Wood:
Finish: